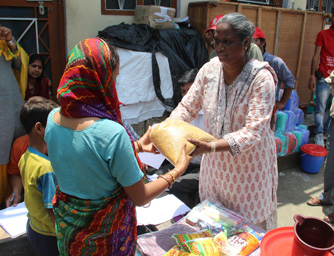 Thousands of families lost everything when flash floods lashed the northern state of Uttarakhand, India, in June 2013. People had no option but to flee for their lives. Things seemed very bleak – but then emergency food baskets from Save the Children began to arrive. Once parents were sure that their children were eating properly, they could start to think about how to rebuild their lives.
Photo: Save the Children
Food
£55.00
Feeding a child when you have no money is tough enough. But it's even harder if you're caught up in a disaster like a drought or earthquake, or suffering from chronic illness. Your gift of a food basket, with enough to eat for an entire month, means that we can respond quickly to a struggling family's needs.
This gift represents a donation to our emergency work and could help feed a family nutritious food for a month to help them cope in an emergency.
Out of stock