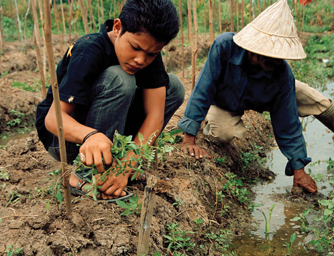 Students from Yang Jiang and Jin Miu primary schools have been getting busy with their green fingers taking part in the planting, pruning, fertilising, watering and harvesting of walnut trees.
Save the Children has provided a future not only for these children but for many more generations to come.
Photo: Anna Kari
Four tree saplings
£12.00
The fruit from four trees alone can raise enough money to help a child through an entire school term. This gift represents a donation to our hunger reduction work and could help provide a family with nutritious food. They can also sell spare produce at the market!
Out of stock