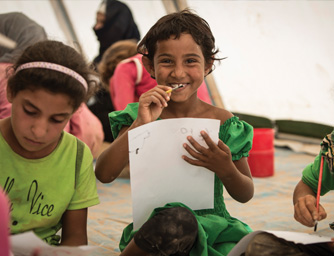 Drawing is always a popular activity in our Child Friendly Spaces - such as the one in Za'atari Refugee Camp, Jordan. In September 2012, over 65% of the camp's inhabitants were children who had fled with their families from the violence in Syria. Pens, pencils and paints help children develop and express themselves.
Photo: Jonathan Hyams / Save the Children
Art Set
£7.00
When disasters like earthquakes or floods strike, it's often children who suffer the most, both psychologically and physically. Drawing and painting in a safe, protected place brings a sense of normality to a child's life, along with the ability to express themselves.
This gift represents a donation to our education work, and could help buy an art set for children. This can mean so much to a child in an emergency situation.
Out of stock