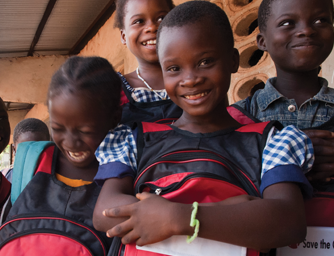 When violence erupted in the Ivory Coast, 10-year-old Satourine and her family had to flee. Her education was put on hold. We gave Satourine and her classmates a school bag kit each, with everything they needed to get back to school – and to start to look forward to a better future.
Photo: Rodrigo Ordonez / Save the Children
School bag
£12.00
With pens, pencils, a sharpener, exercise books, rulers and a portable chalkboard, a child's education is in the bag. A schoolbag kit will help children who have had to flee from home because of an emergency like a war or natural disaster get access to an education during emergencies.
This gift represents a donation to our emergency work.
Out of stock