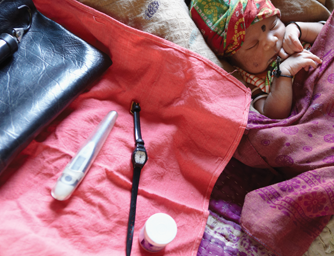 Sangita, a community health worker from Maharastra, India, travelled from house to house with her life-saving birth kit, containing a clean scalpel to cut the umbilical cord, antiseptic wipes to prevent infection and a sling to check a baby's weight. The number of babies in the area that die at birth dropped dramatically because of the support provided by Sangita and other community health workers like her.
Photo: Andy Hall
Birth kit
£12.00
There's a lot to think about for a mum giving birth. But she can breathe that little bit easier knowing there's a fully-equipped midwife to hand. The soap, cotton wool and sterilised scissors in this birth kit will help deliver babies safely.
This gift represents a donation to our child survival work, and could help health workers bring more children into the world safely.
Out of stock