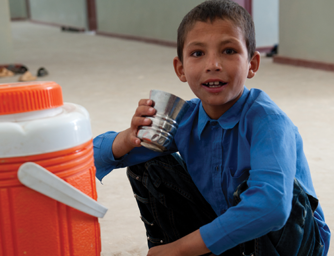 Erfan's school didn't have a supply of clean water, so every day he had to take his own bottle of water to school, which would often run out before lunchtime. In the afternoons he would have to choose between potentially life-threatening water or going thirsty. But thanks to a water pump we installed and water filters we provided, Erfan and the other children at his school had clean water to drink whenever they felt thirsty, keeping them healthy and safe from germs.
Photo: Mats Lignell / Save the Children
Water filter
£38.00
Each donation gift helps change the lives of children across the world. Perfect for an alternative thoughtful gift.
When disaster strikes and the only water to drink is filthy, children are especially vulnerable to deadly water-borne diseases. This gift could help provide safe drinking water to keep children safe from nasty illnesses like cholera.